Do you want to combine SAILING and PHOTOGRAPHY??? … and in one of the nicest and most photographic landscapes of the world??? … and with reach wild life??? … and not just snapshots of your vacation but something more???
Then maybe Cyclades Sailing is here for you…
Me, Antonis Lemonakis, owner and founder of Cyclades Sailing since 1982, I was born and raised on the beautiful island of Syros, capital and at the very center of the Cyclades group of islands. Surrounded by the sea… The beauty of the sea… My love for her was inevitable. Sailing her and swimming her (I am also fun of scuba diving). How could I avoid capturing her… So since very young, SAILING and PHOTOGRAPHY were my hobbies… SAILING became soon my loving job and PHOTOGRAPHY my second life. Semi professional, fully amateur. A photography fanatic. I met photography with a manual Zenith SLR camera. Just imagine that by that time, I secretly took my father's binoculars, took them apart and with tapes I made my own close up lens so to shot the eye of a fly. I had spent numberless hours in the dark room. Then the magic scenery of the islands and the sea brought me more and more to the landscape and wild life photography. Through my work, I made good friends among famous Greek and international photographers, something that helped me become better, along with the very active local photo club where I am a long member. I have many awards on a national and international level and I am writing articles at the biggest Greek Photo magazine. I am also one of the photographers of WWF and of Syros municipality.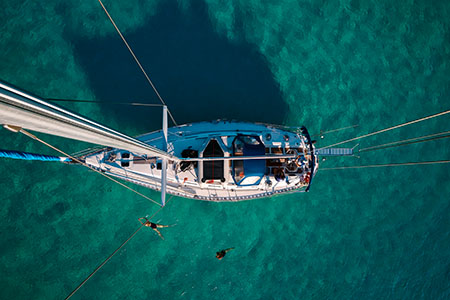 More from my work can be seen or bought from:
https://500px.com/cptanlcs
https://www.shutterstock.com/g/Lemonan
So whether you are a beginner in "serious" photography, or already an expert, me as your long experienced skipper, we can sail together from Syros and I can pass you my photographic experiences, show you many technics, as for example how to increase your chances to catch a beautiful wild free dolphin playing next to our boat, take you to paradisiac photographic spots, etc.
Let's share the fun of SAILING and PHOTOGRAPHY !!!
For more info, please contact us  here